Press Release
UN General Assembly President to make official visit to Bahrain
27 April 2023
Mr. Kőrösi is expected to call on His Majesty King Hamad bin Isa Al Khalifa.
The President of the 77th session of the United Nations General Assembly, Csaba Kőrösi, will make an official visit to the Kingdom of Bahrain starting on 29 April 2023.
During the visit to the Kingdom, which will mark the beginning of his visit to the Middle East region as President of the General Assembly, Mr. Kőrösi is expected to call on His Majesty King Hamad bin Isa Al Khalifa.
The President is also expected to be received by His Royal Highness Prince Salman bin Hamad Al Khalifa, the Crown Prince and Prime Minister, 
He will also meet with Dr. Abullatif bin Rashid Al Zayani, Minister of Foreign Affairs, at whose invitation the President is visiting the Kingdom.
The President is visiting Bahrain and other countries in the Gulf to seek further support for the transformational changes needed to end global crises, and to assess the interlinkage of sustainability with peace and stability in the region.
While in Manama, President Kőrösi will tour the King Hamad Global Center for Peaceful Coexistence, which highlights the Kingdom's rich diversity. The President's visit comes shortly after an interfaith moment of prayer for peace at the United Nations, which was held on the last Friday of Ramadan, as Christians celebrated Easter, Jews marked the end of Passover, and Sikhs enjoyed the festival of Vaisakhi.  
The President will be meeting with young people during the visit. He will provide a lecture to the Mohammed Bin Mubarak Al Khalifa Academy for Diplomatic Studies, and interact with students, staff and other invited guests. He is expected to highlight the motto of his presidency, which is the need for solutions to global challenges rooted in solidarity, sustainability, and science and encourage the young attendants to engage in multilateral affairs and make their voices heard.  
In line with these priorities, the President will have discussions with Ms. Noor Ali Al Khulaif, the Minister of Sustainable Development. The topics of their conversations will include the recent UN Water Conference and the pledges related to Bahrain in the context of the Water Action Agenda.
The visit will also be an opportunity for the President to meet with Ms. Hala Al Ansari, Secretary General of the Supreme Council for Women, and to discuss the advancements related to women's rights and their empowerment in the Arab nation.
The President will be accompanied by a delegation of three staff members including the Chef de Cabinet, Mr. Laszlo Szoke, and the Office's Political Team Leader, Ms. Janina Hasse-Mohsine.
The team will depart Bahrain on 1 May 2023.
Costs are covered by the Government and the OPGA Trust Fund.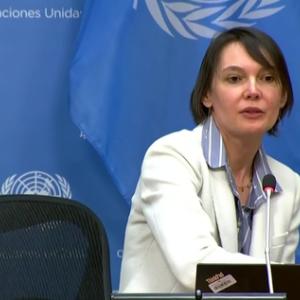 Paulina Kubiak
Spokesperson for the President of the General Assembly & Communications Team Leader Office of the GA President
UN entities involved in this initiative